A great workflow is to start by making a "branded template" that you can use when creating your presentation. A branded template serves as a foundation with your fonts, and colors so that you can easily carry them through the presentation. Consistency in branding is key to looking professional.
Here's how to create a branded template:
Create a new presentation
Use your brand colors and fonts to customize a set of pages, make one of each page type - Impact, Deck, Grid, Compare, Gallery, Scrollmotion and Video. You can change the layout later and the styling will be preserved.
Be consistent in your font and color usage.
Move the pages in a section called Page Templates
Return to the story library - consider making a team called Templates to store your template
Right click and duplicate the template when creating a new presentation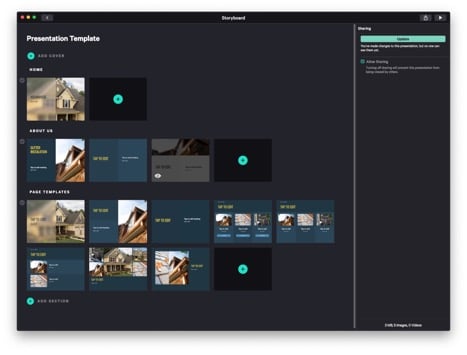 Here's how to use your branded template:
Right click and duplicate one the pages from your Page Templates section
Drag the page into the section where you want to add it
Repeat this process as you make your presentation, this way your presentation will have a consistent appearance
Hide the Page Templates section when you're done. This way you can always un-hide it if you need to add a page.