File Button allows you to view a file full screen. Example of file types: PDF, Doc, PPTX, Excel, SVG, DMG..etc
*Note: Some files will be viewable in the window, others will prompt to download. This will depend on the handler meaning a program that knows what to do with the file.
Example: If you put a jpg in there, the browser knows how to display it, so it would display right in the app/browser window. An .dmg file is not viewable, so it would prompt to save the file.
To include a files in a presentation, use the "File button" to display file in full screen.
To 'Add File' to button, double-click. Select 'Add File' plus icon.
Your computer files will be display. Select a file.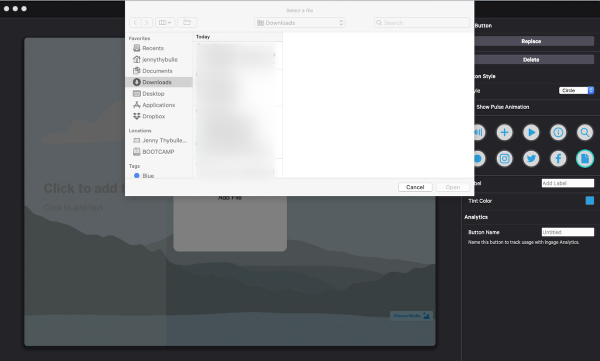 File will be added. Select "File Button" in Present mode to view the file added.
*Note: PDF is a recommended format for sharing documents. It's always best to test your file button out before sharing presentation.