Visit ingage.io/download to download the installer file.
Click the Download for Mac

button.

The installer file will be saved to your Downloads folder.
Locate the Presentations.zip file in your Downloads folder.
Double-click the Presentations.zip file to unzip and extract the installer.
Note: Your Mac may automatically unzip the file. Skip to the next step.
The Ingage Desktop-x.y.z.dmg installer is displayed
Note: x.y.z denotes the version number for the install.

Double-click on the Ingage Desktop-x.y.z.dmg file to open the app installer.
Click on the Ingage Desktop file and drag it into the Applications folder.
Note: Your Mac may prompt you to authenticate to complete the install


Open the Applications folder.

Double-click on the Ingage Desktop app icon to open Ingage Presentations for Desktop.




On first launch of Ingage Desktop, macOS will prompt you to verify the security of the download.
Note: Applications not downloaded from the Apple App Store are checked for safety when you try to open them.
Click the Open button to continue opening Ingage Desktop.

The Ingage Desktop Login page will be displayed.

Enter the Email and Password associated with your Ingage account.

Click the Login with email button to continue.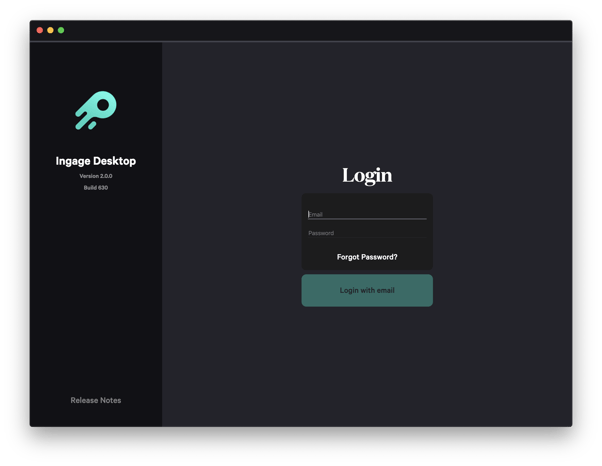 IMPORTANT NOTE:
As of Ingage Desktop 2.0 the application icon and name changed from Ingage to Ingage Desktop. Both applications can be installed on the same Mac, however it is recommended that only one app version is open at a time.