1. Visit ingage.io/download to download the installer file.
2. Click the Download for Windows button.
3. Locate the Presentations.zip file in your Downloads folder.
4. Find the
Presentations.zip
file and extract the contents of the ZIP file (right-click, Extract).
Note: Your Windows PC may automatically unzip the file. Skip to the next step.
5. The Ingage Desktop Setup x.y.z.exe installer is displayed
Note: x.y.z denotes the version number for the install.
6. Double-click on the Ingage Desktop Setup x.y.z.exe file to open the app installer.
7. The "Windows protected..." prompt will be displayed.
Note: This dialog is presented as part of the Windows security system. The message indicates that Microsoft is not familiar with the application being run. This is intended to intervene if a site or application has been identified as malicious, but also in this case, when the application is unknown to Microsoft.
9. Click the "More Info" link.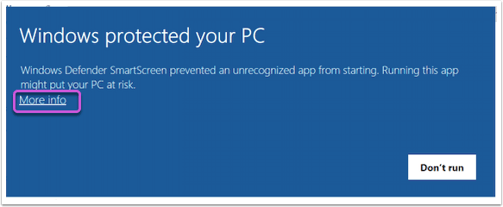 10. The "Windows protected your PC" prompt will be displayed.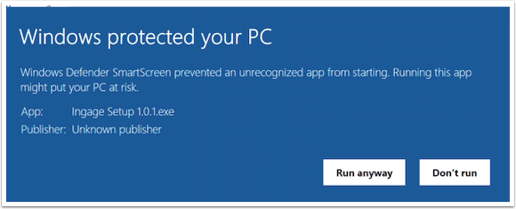 11. Click the Run anyway button. The Ingage Setup application will begin the installation process.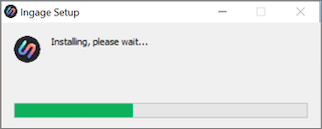 12. Upon completion of the installation, the Ingage Desktop Login page will be displayed.
13. Enter the Email and Password associated with your Ingage account.
14. Click the Login with email button to continue.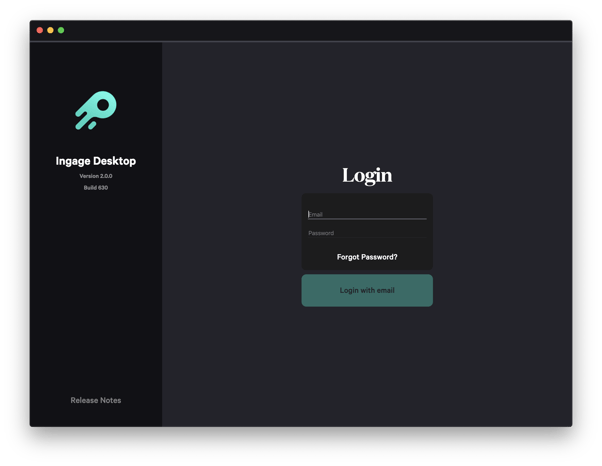 IMPORTANT NOTE:
With Ingage Desktop 2.0, the application icon and name changed from Ingage to Ingage Desktop. Both applications can be installed on the same Windows PC, however it is recommended that only one app version is open at a time.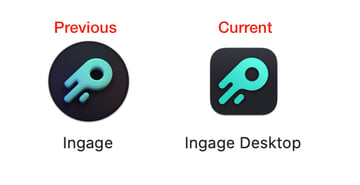 Related articles: