From any page tap the '+' button in the navigation bar to see the list of button type options.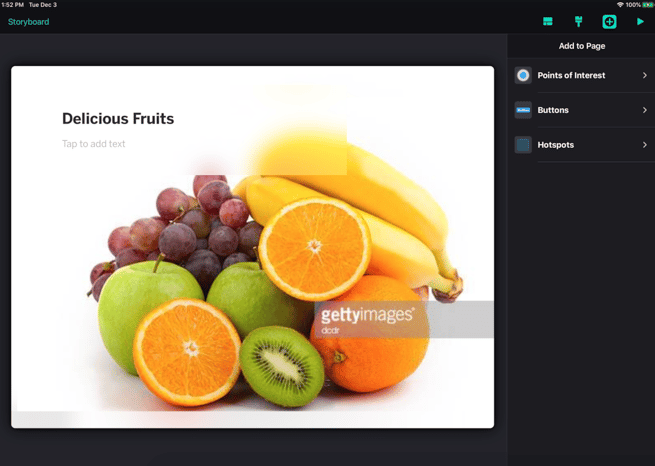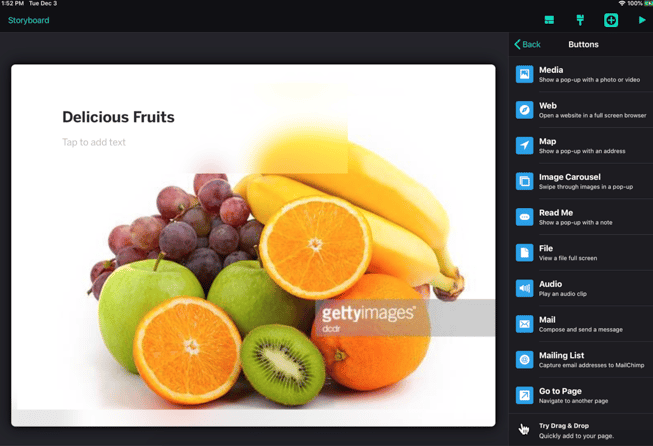 Tap or drag a button to add it to the page. Some pages allow you to place a button anywhere, other pages have specific locations that will accept buttons.
Different types of buttons include:

Media
Show a pop up with a photo or video. Choose from several layouts with text in different positions or no text at all.

Web
Open a website in a full screen browser.

Map
Show a pop up with an address marked on a map. Pinch and scale the map to position it. Users can tap a button to get directions and interact with the map.

Mail
Compose and send a message using the native Mail app.

Mailing List
Capture email addresses to Mail Chimp.

Read Me
Show a pop up with a note. Choose from a small or large layout.

File
View a file full screen

Audio
Play an audio clip.

Image Carousel
Let the user swipe through a pop up of images. Add captions and view the images full screen.

Go to Page
Navigate to another page in the presentation.